Focus on Influence Interview with Zhu Jiamin, Chairman of EES International Logistics Group and EES Investment Development Co., Ltd
---
Recently, Group Chairman Zhu Jiamin was interviewed for the book "Focus on Influence", which is sponsored by the China Cultural Information Association and published and distributed by a national publishing house; Based on the macro background of China's increasing influence in the new era, through the form of character interviews and documentary techniques, this article focuses on the dream driven group mainly composed of Chinese enterprises and entrepreneurs from a micro perspective, telling the stories of enterprises and entrepreneurs who have achieved and influenced their respective fields since the reform and opening up, striving to build their dreams.
Mission is bound to reach Woyun Network, connecting intelligent Fuwanjia
——Interview with Zhu Jiamin, Chairman of EES International Logistics Group and EES Investment Development Co., Ltd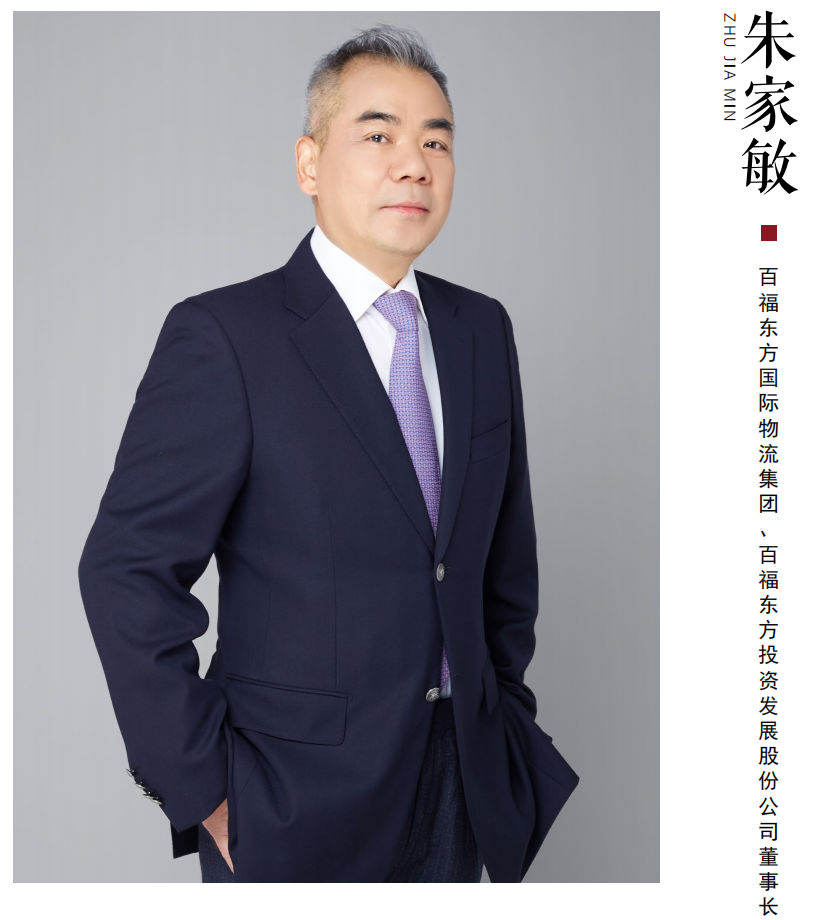 Zhu Jiamin, Chairman of EES International Logistics Group, Baifu Oriental Investment and Development Co., Ltd., Executive Vice Chairman of the Consumer Electronics Service Special Committee of the China Electronics Chamber of Commerce, President of the Beijing Olympic Torchbearer Association, and a Chinese honest entrepreneur. As the founder of the group, Zhu Jiamin takes the opportunity to create the first "three networks and one cloud" logistics model in China. For 24 years, he has continuously provided professional, fast, and efficient logistics services to many leading enterprises both domestically and internationally, and gradually transformed the company into a smart logistics solution service provider. At the same time, EES has been listed as one of the "Top 100 Freight Forwarders and Logistics Companies in China" for many consecutive years, establishing a professional, efficient, safe, and economical logistics delivery system for IT high-tech, electronic, communication, and automotive service supply chains, and creating a core competitiveness of reverse logistics and terminal value-added services that can reach county-level cities nationwide.
Pursuing Excellence, Mission Must Be Reached
The modern logistics system plays a fundamental, strategic and leading role in improving the overall operating efficiency of the national economy, enhancing industrial competitiveness, and promoting high-quality development of the national economy, which is an important guarantee for building a Dual circulation. National leaders attach great importance to the construction of a modern logistics system, emphasize the construction of a modern logistics system, and propose to cultivate and strengthen modern logistics enterprises with international competitiveness. As a leading enterprise in the logistics industry, Baifu Oriental International Logistics Group has been committed to becoming a century old logistics strong enterprise under the leadership of its chairman, Zhu Jiamin, with the corporate spirit of "professionalism, efficiency, harmony, and development", the service characteristic of "customized according to needs", and the service value of "more, faster, better, and more economical" since its establishment.

In 1993, the spring breeze of reform and opening up blew from the Pearl River Delta region to Beijing, and more and more entrepreneurial stories took root and sprouted throughout the country. As a top military officer who has worked hard in the field of logistics for many years, Zhu Jiamin not only has a strong sense of business foresight, but also always maintains the spirit of "pioneering", the momentum of "innovation", and the style of "doing". He resolutely seized the opportunity to establish Beijing EES Express Company, taking a critical step in determining the fate of life. Time is engraved with immortality, and struggle leads to eternity. After five years of hard work and progress, Beijing EES Express Company has seen its business volume increase year by year, and its service projects and business areas continue to expand. The power to move forward lies in every vibrant farming land of the company, stretching infinitely towards the future. In 1998, Zhu Jiamin, with the ambition of benefiting the people, revitalizing China, and competing for the world, established Beijing Eastern International Logistics Co.,Ltd. , writing a more magnificent industry picture.
Time moves forward, never giving up day and night, connecting the past and future. In the blink of an eye over the past twenty years, Zhu Jiamin and Beijing Eastern International Logistics Co.,Ltd. have experienced every moment to create miracles, write history, and continuously explore and cultivate with the heroic spirit of forging ahead. Nowadays, Beijing Eastern International Logistics Co.,Ltd. has become a professional logistics enterprise engaged in international and domestic transportation, import and export customs declaration, logistics warehousing, distribution and distribution, product exhibition and display, international and domestic express delivery, and other services. Its business covers multiple regions such as Hong Kong, North America, and Europe. Beijing Eastern International Logistics Co.,Ltd. has its own seven regional logistics centers in China, as well as over 300 warehouses and distribution warehouses distributed in 100 cities across the country. The company has a "seven in one" logistics service system of marketing logistics, distribution logistics, service parts logistics, urban repair centers, green recycling and cloud factories, smart cloud service platforms, and logistics and financial services. It is a strategic partner of hundreds of large companies and multinational groups, including Lenovo, Haier, GM, HP, IBM, Huawei, Michelin, Tiktok, Ali Group, etc, And has successively been listed as one of the top 100, 50, and 20 private enterprises in China's international freight forwarding industry.
Layout Intelligence, Explore the Future
Unlike most logistics companies that lean towards traditional and conservative strategies, Zhu Jiamin and Beijing Eastern International Logistics Co.,Ltd. always emphasize innovation. As a logistics enterprise, my core requirement is to constantly innovate, all businesses must have innovative points, all core technologies must be mastered in my own hands, and then these core things can be created to the extreme. This is Zhu Jiamin's consistent innovation consciousness. Therefore, under the tide of the Internet, Zhu Jiamin and Beijing Eastern International Logistics Co.,Ltd. spare no effort to carry out technological innovation. Through the application of artificial intelligence, Big data, etc., they cultivate more new growth points in the field of modern supply chain while improving the user experience, improving the efficiency of the consumer service industry, and reducing the cost of social logistics.
Logistics is a very large and traditional industry, and using digital intelligence to improve logistics efficiency is Zhu Jiamin's original intention. By utilizing the real-time positioning and intelligent algorithms of the intelligent platform, orders that require customers can be automatically pushed to 4029 different product types of service stations across the country, which can help customers solve after-sales maintenance problems; At the same time, the service site can support the joining of over ten thousand technical experts, serving as a guarantee for enterprises to solve after-sales problems; Equipped with the group's intelligent service management platform, customers, enterprises, and engineers can understand the process and results of after-sales service in real-time. Building intelligent logistics is the advantage that Beijing Eastern International Logistics Co.Ltd. has compared to other logistics companies. Cultivate a strong affection for the country, have a heart of concern for the country, and practice the journey of becoming a strong country. Zhu Jiamin and Beijing Eastern International Logistics Co.,Ltd. adopt a dual engine model of self construction and joint operation, adhere to the development concept of "innovation, coordination, green, openness, and sharing", actively adapt to the new situation, actively seize development opportunities, bravely explore, and strive to create a "three networks and one cloud" Huibang life.
We have woven three networks in nearly 30 years, namely logistics network, warehousing network, and technical service network. Based on years of logistics service practice, we have independently developed the iMC intelligent cloud service management platform, known as "One Cloud"' Three Networks, One Cloud 'takes warehousing as the fulcrum, logistics as the link, and services as delivery, seamlessly connecting logistics and service processes, achieving a service experience of high quality, high timeliness, high elasticity, and low cost. In this process, EES has established the "2x2x365" industry service standard, as well as high standard services for special delivery. Among them, "2x2x365" refers to the requirement that local demand must arrive within 2 hours, cross city demand must arrive the next day, and 365 days, 24/7 standby. "Direct delivery by special messenger" is about moving according to the needs of customers, providing special cars and direct delivery services by special personnel according to different needs of customers, such as taking a plane to Shanghai and Guangzhou to deliver the goods, and completing the entrustment in the fastest way, such as Zhengzhou Dashui. In order to guarantee the service needs of customers, our staff took a boat to deliver the accessories urgently needed by the bank to the site, quickly solve the downtime problem, and ensure normal data transmission.
Based on its own seven major regional logistics centers in China and combined with its own transportation business characteristics, EES Logistics Network is also equipped with an iMC cloud intelligent service management platform to achieve full process management of logistics transportation processes. Whether it is for the group's own vehicles or third-party transportation companies, it can effectively monitor and manage real-time orders. In conjunction with GPS and GIS, it has achieved the tracking function of logistics vehicles throughout the entire process, Make the entire logistics distribution process controllable and reliable. As the central nerve of the intelligent and efficient supply chain, the warehousing network of EES Bloc has 300 warehousing centers in more than 100 cities across the country, mainly in Beijing, Jinan, Zhengzhou, Xi'an, Qingdao, Shenyang, Harbin, Changchun, Xi'an, Lanzhou, Yinchuan, Xining, Urumqi, Shanghai, Nanjing, Ningbo, Hangzhou, Wuxi, Hefei, Fuzhou, Xiamen, Shenzhen, Dongguan, Shantou, Huizhou, Guangzhou Cities such as Haikou, Nanning, Changsha, Nanchang, Chengdu, Chongqing, Kunming, Lhasa, and Guiyang. Equipped with the group's own cloud warehouse system, it accurately matches the business characteristics of multiple industry enterprise customers and perfectly matches their different needs for warehouse management. It can provide customers with services such as intelligent warehouse selection, real-time leasing, random storage, warehouse sharing, warehouse management, inventory security management, and warehouse data analysis; Through the iMC cloud intelligent service management platform, real-time visual management within the library can be achieved, providing more guarantees for asset security.
In addition, Zhu Jiamin also uses the transparent process and community-based interaction of Huibang Life, as well as user portraits from different fields to accurately showcase their respective scenarios. He utilizes system tools and resources to graft and integrate resources, establish a sense of belonging system, reconstruct social trust system, and provide assistance in technology and resources for national entrepreneurship, truly achieving mutual benefit.
With the help of technology, mode and management innovation to promote their own Digital transformation and upgrading, Zhu Jiamin and Beijing Eastern International Logistics Co.,Ltd. continue to redefine themselves, redefine the productivity of the logistics industry, and continue to make efforts in business models, information platform planning, database cloud deployment and other fields to help enterprises drive towards a broader future.
Bravely undertake the mission and benefit the people
The great achievements of Yinma Hanhai and the unstoppable changes of the times have all been recorded in the glorious books of Zhu Jiamin and EES International Logistics Group, turning into legendary stories, extraordinary epics, and dazzling stars, guiding future generations forward. The legendary career is enduring and enduring, and the national sentiment is passed down from generation to generation.
As a Yan Huang Zisun, Zhu Jiamin's blood contains the deepest spiritual pursuit of the Chinese nation. Zhu Jiamin integrated his patriotism into his career and founded the EES Qinhuangdao Vocational and Technical Training Center. Starting from education, he took the lead in implementing the "school in school factory" and "factory in school school" educational models, bringing the advanced work experience and processes of EES to the classroom, allowing students to participate in production practice while learning. In addition, Zhu Jiamin has also set up on-site teachers in the company to guide employees in learning in practical work, timely improving problems encountered in practical operations, and inspecting students' internship situations, providing employment opportunities for students and delivering fresh blood to enterprises, truly achieving a win-win situation. Not only that, Baifu Oriental has also collaborated with multiple well-known universities to further train in-service cadres within the enterprise, learn excellent management concepts from both domestic and foreign sources, improve the ability of the enterprise management, maintain a positive learning attitude, and always keep pace with advanced management and service concepts, which has played a significant role in promoting the development of the enterprise.
Difficulties and worries bring prosperity to the country, while perseverance and perseverance lead to a wise future. Send Zhao Zhao's patriotism and blend the country's mountains and rivers for thousands of miles. Zhu Jiamin's mission commitment and patriotism are not only reflected in the enterprise, but also in his feelings for the world. After the major disaster in 2008, Zhu Jiamin took the lead in donating money and materials for the disaster area, and called on EES to actively participate in the logistics and logistics support services in the disaster area, building walls of iron for the people in the disaster area with unlimited hope and unyielding tenacity. Therefore, Beijing Eastern International Logistics Co.,Ltd. has become an Olympic torch relay enterprise in Beijing.In 2016, Zhu Jiamin, founder of EES Group, served as a member of the high-level delegation of the Ministry of Commerce and accompanied national leaders to visit the United States, accelerating the internationalization process of the group. In the same year, Zhu Jiamin, along with the Prime Minister of China, participated in the Forum on Cooperation between China and the 16 Eastern European Countries, further expanding international influence. In 2017, the group transformed into a national high-tech enterprise and established a group ecosystem, embarking on the journey of "combining our strengths and building a happy nation". In 2018, through the construction planning and implementation of the "Three Networks and One Cloud" (logistics network, warehousing network, technology network, and iMC cloud intelligent service management platform), we closely focused on the enterprise vision of "promoting the value-added of large enterprise service supply chain profits; helping small and medium-sized enterprises improve after-sales services; and achieving the entrepreneurial dream of ordinary people". In 2020, in order to ensure online courses for 180 million students and become a trailblazer, we traveled day and night in southern Xinjiang and the vast Gobi Desert; In the same year, it was listed on the "Top 100 International Freight Forwarders in China" list; Received the CLFP Logistics Packaging Box Excellent Case Award; In 2022, together with the Consumer Electronics Service Professional Committee of the China Electronics Chamber of Commerce and the Caring Relay of Elegant, BFO Oriental donated 60000 masks to Shanghai Hongqiao, Shanghai Jiaotong University, etc., and established a centralized procurement channel for enterprises to make contributions to the life supply guarantee and production resumption of enterprises in Shanghai, while purchasing Household goods to ensure the life of front-line staff.
Having a strong sense of character also has a sharp edge, and having dreams makes one strong; Go to the bright moon and stars, never forget your original intention. When it comes to the future, Zhu Jiamin said, "EES has been cooperating with leading enterprises in the IT high-tech, electronics, and automotive industries all year round, accumulating rich experience and a certain scale of service foundation. We provide great help to customers in service delivery, and customers evaluate us as the 'best practitioners of service delivery'. Based on these experiences, service foundations, and customer recognition, we plan to collaborate with industry chambers of commerce and link member enterprise resources to carry out The Hundred Cities, Thousand Stores, and Ten Thousand People Plan. The so-called "One Hundred Cities, One Thousand Stores and Ten Thousand People" is to build 100 urban mail repair and quick repair centers in the 100 existing warehouse network cities of EES. Each city links 10 maintenance centers for different products. At the same time, each city absorbs 100 technical engineers, establishes a Third-party logistics and service sharing delivery platform that meets the industry standards, reduces the service delivery costs for large enterprises, and improves the after-sales service system for small and medium-sized enterprises, Let consumers enjoy buying while experiencing reassuring services
The Chinese express logistics industry is facing opportunities and challenges such as profound changes in the global supply chain, rapid commercial fission, green industry transformation, and intelligent upgrading. Not indulging in utopian ideas or empty words, Zhu Jiamin will lead EES International Logistics Group and EES Investment Development Co., Ltd. to grasp the current situation, be down-to-earth, and do everything with a calm and cautious attitude. He will turn diligence into a lamp for pursuing dreams, step by step, and forge ahead on the path of pursuing dreams.
---